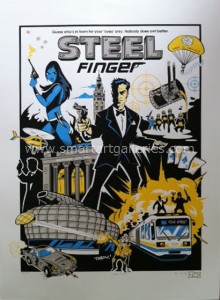 LAST FEW REMAINING
Signed Limited Edition Screenprint
Jim Connolly is an illustrator, designer and commercial artist from Sheffield, England.
He is best known for creating comic book style designs for album/single covers, concert posters, magazine articles and silkscreen prints. His style features loud and brash bubblegum colours and comical characters usually drawn with a sharp vectorized look.
The dominant features of his work usually include comic book, science fiction and horror references, often with a UK slant.
Beyond his comic book style work he has also worked in a variety of different styles as an illustrator and designer, mainly on outsourced E-Learning games for the BBC and Channel 4 via several E-Learning companies.
Available for or gallery or here online.
info@smartartgalleries.com